Client story: Hanukkah Injera Nachos
Posted by Liz Freeman on Thu August 19, 2021.
My husband and I were lucky enough to have our Ethiopian cooking lesson with Daniel and Tigist during Hanukkah this past December, and decided to combine our leftover Injera with our Jewish heritage and California residence into "Hanukkah Injera Nachos" – here's the story:
The Story of Hanukkah
Hanukkah is a Jewish holiday that dates back over 2100 years. The emphasis and cultural importance of the Hanukkah story have evolved over time, but the central gist is that it celebrates Jewish survival in the face of persecution. Specifically, it commemorates the military victory of a small army of Jews called the Maccabees, who expelled the Seleuicid Greeks from the lands around Jerusalem in 164 BCE.
The modern celebration of Hanukkah focuses on a "miracle of light" that is alleged to have occurred shortly after the Maccabees regained control of the Jewish Temple in Jerusalem. Upon reentering the Temple and clearing it of Greek idolatry, the Maccabees were distraught to discover that there was not enough oil to keep the sacred menorah lamp burning for more than one day. It was crucial that the menorah light not go out – but they wouldn't be able to secure more oil for the lamp for at least a week! Miraculously, the oil that should have only lasted one day continued to burn for eight whole days, by which time more oil had arrived.
The Food of Hanukkah
No Jewish holiday is complete without food! Especially food specifically chosen or designed around a symbolic theme of the holiday. For Hanukkah, the symbolism is particularly delicious, because it translates into food that has been deep-fried in oil, as a reference to the miraculous oil that burned for eight days in the Temple's menorah.
The most common deep-fried Hanukkah foods from the Eastern and Northern European traditions are potato pancakes called latkes and filled donuts called sufganiyot. Jewish communities from other parts of the world eat other deep-fried deliciousness like sfenj, sambusak, kubbeh, and atayef. But really it's the oil that's important, much more than the particular food being fried in it, so essentially any food can be "Hanukkah food" if it's deep-fried in oil or otherwise oily.
Injera for Hanukkah?
The day after our cooking class, we had already finished our Tibs, but had several pieces of leftover Injera. My brother-in-law mentioned that there's an Ethiopian restaurant near them in Washington, D.C. that serves fried injera chips, and we thought that would be a perfect Hanukkah food!
But then came the question: what to serve with the fried injera chips? To answer this, we looked no further than our own backyard. We live in California, where "California-style" Mexican dishes such as nachos loaded with avocado, cheese, black beans, greens, and sour cream are popular. So loaded nachos were a natural choice for the Injera chips! Nachos are usually served with tortilla chips made from corn or wheat flour, but the Injera worked perfectly, adding a rounder and nuttier taste.
Hanukkah Injera Nachos!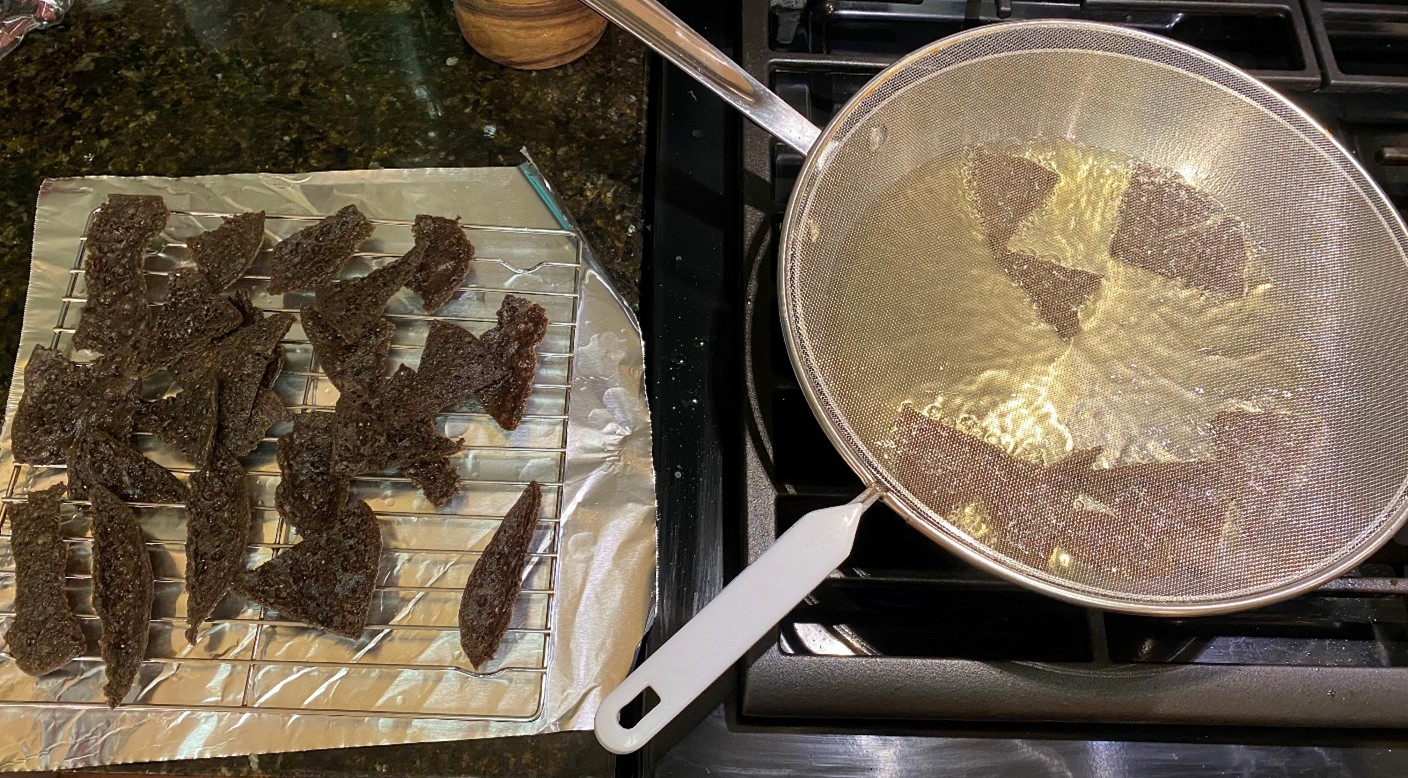 Frying the Injera
Injera nachos with shredded cheese, beans, green onion, avocado, and sour cream on the 4th night of Hanukkah